NOTE: At diversitydatakids.org, we hope that policymakers and administrators invested in expanding access to quality early education will consider current neighborhood opportunities and concentrate efforts in high-need communities. We recently summarized the possibilities to address neighborhood conditions and improve racial equity in early education in federal programs. While federal action is key, we were excited to learn about the application of equity principles and attention to neighborhood opportunity in Michigan's Great Start Readiness Program.
***
Nearly every state in the nation offers a form of public preschool, and all of these programs strive to graduate children into kindergarten ready to succeed. Amid efforts to fund, implement and maintain excellent standards for these programs, though, one goal can be overlooked: ensuring that the state's highest-need children and families can access public early education.
A public preschool program focused on equity
Michigan's Great Start Readiness Program (GSRP), which provides public preschool to over half of eligible low-income four-year-old children in the state, offers a model for how to administer pre-K that is high-quality, rigorously evaluated and equitably implemented. And with a mission of serving children potentially "at risk of educational failure," GSRP in recent years has deepened its commitment to equity. The program has begun using the Child Opportunity Index to target services toward children in low-opportunity neighborhoods, recognizing that these children not only often have insufficient access to high-quality early education, but also may experience a range of adverse conditions that can disrupt early learning.
Under the direction of Richard Lower, who leads Preschool & Out-of-School Time Learning at the Michigan Department of Education, GSRP currently serves about 38,000 children across the state, and it aims to expand services to all remaining eligible children over the next few years. Nearly all of these eligible children have family incomes below 250% of the federal poverty line (about $66,250 for a family of four in 2021), with prioritization given to children with some high-risk factors, such as experiencing loss or absence of a parent, having developmental delays or facing neglect or abuse situations. Funds for GSRP are administered through Michigan's Department of Education to Intermediate School Districts, which implement programs through a network of providers locally across the state. Current pre-K programs can apply for GSRP designation if, among other criteria, they have a quality ranking of three stars or above out of five and adopt one of the approved curricula aligned with state standards.
Researchers at Michigan State University, led by principal investigator Jamie Wu, PhD, have evaluated GSRP and found promising results. Compared to children who were waitlisted, GSRP participants had demonstrated higher levels of kindergarten readiness and better school attendance through kindergarten, controlling for income and other significant factors. Earlier assessments have found that GSRP reduces literacy gaps between higher and lower risk learners and between English speakers and dual language learners with limited English proficiency, with positive effects in both urban and rural areas.
Reaching the highest-need communities
Now, these state-funded evaluations are including the extent to which GSRP reaches children in high-need communities. By combining the Child Opportunity Index with location data of GSRP and Head Start sites across Michigan, the state can easily identify very low- and low-opportunity neighborhoods with relatively few or no public pre-K sites. In these areas, families with little access to playgrounds, low college enrollment and lower incomes also have few public preschool options. Furthermore, data on the child population by race/ethnicity have allowed administrators to identify the extent to which Black, Hispanic and American Indian children are concentrated into these neighborhoods without access to or actual usage of public pre-K services.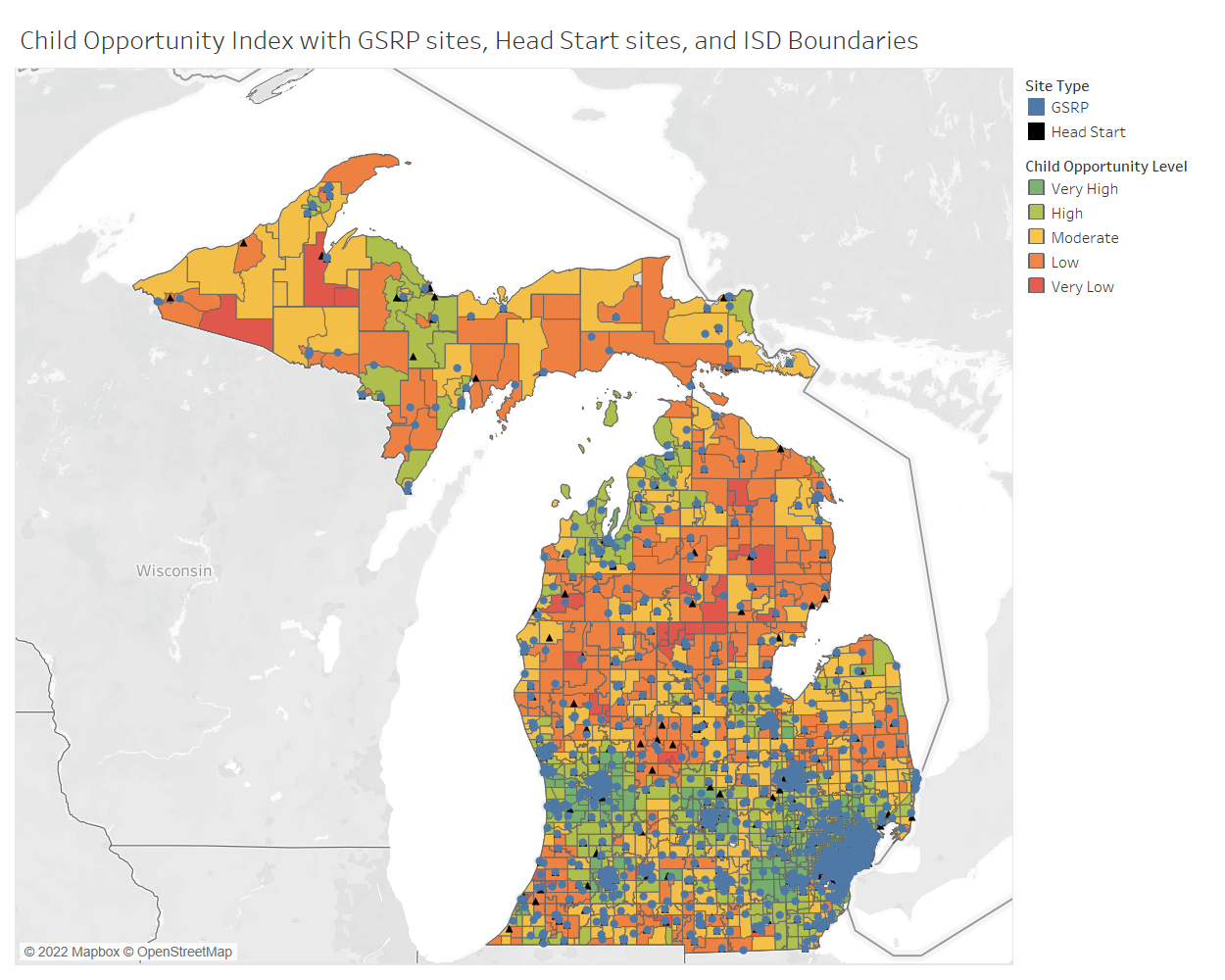 As Intermediate School Districts (ISDs) plan their implementation practices for the coming years, they can use this data in a number of ways: to focus on low-opportunity neighborhoods when recruiting new GSRP preschools; to recruit teachers and especially teachers of color in these communities; or to craft culturally appropriate messaging and educational materials for families.
In initial conversations with Michigan's Department of Education, ISDs have found that insights from the Child Opportunity Index (COI) have provided a clear path to achieve greater equity with the program. Says Wu, the straightforward question administrators have from viewing COI maps is, "Why don't we have a program in that area where opportunity is low?" Whether those barriers include staff shortages, zoning regulations or lack of suitable infrastructure, the Child Opportunity Index provides a starting point for real conversations to take place about how to provide high-quality early education to children in those communities.
Cover image property of the Michigan Department of Education. "Child Opportunity Index with GSRP sites, Head Start sites, and ISD Boundaries" image property of Michigan State University and diversitydatakids.org/maps.